If you want to celebrate a special day, La Cabana is a good option.
We offer different spaces that can be adapted to what you are you are looking for with the added advantage of providing accommodation for close friends and family.

Everything that La Cabana can offer for your big day: the extensive threshing floor terrace, a garden with an outdoor pool, a forest glade, a room inside the house, etc.
You will find all this and more at La Cabana. Discover all the hidden corners which will ensure you have a perfect day.
THE THRESHING FLOOR TERRACE AT THE ENTRANCE TO THE HOUSE
The extensive open space that welcomes you to La Cabana is landscaped and ideal for receptions and civil ceremonies.
FOREST GLADE
At 50 metres from the house, a copse for all those who are fond of discreet and welcoming spots where nature is the main protagonist.
Holm oaks and oak trees along with fantastic views of the fields of La Cabana, a unique backdrop that changes according to the time of year.
Ideal for civil ceremonies.
GARDEN WITH OUTDOOR POOL, COVERED PORCH AND BATHROOM
If you like outdoor celebrations, La Cabana has a pretty and spacious garden with a pool and a covered porch.
The garden, surrounded by lavender, merges into a cultivated field that lends a unique character to the space.
Ideal for civil ceremonies, aperitifs, banquets and cocktail parties.
THE THRESHING FLOOR TERRACE
Just in front of the main facade of La Cabana, the threshing floor terrace is a beautiful paved area with a landscaped section and spectacular views over the fields of La Cabana.
Ideal for civil ceremonies, aperitifs, banquets, cocktail parties and for dancing.
100 M² ROOM
Next to the garden, and an annex to the main house, this is an ancient agricultural porch which has now been restored to make a multi-purpose room.
It is a space with character, practical and comfortable, ideal for celebrations throughout the year.
An open space that can be adapted to your taste and requirements. Ideal for aperitifs, banquets, cocktail parties and for dancing
EXTERIOR PARKING AREA
With enough capacity for all your guests' vehicles.
In addition to offering a great variety of spaces for your celebration, we can also offer accommodation at La Cabana for between 22 and 23 people so that you can keep the party going just that little bit longer with your family, closest pals and friends from the other side of the world who don't know where to stay…
How does that idea strike you?
In reality, what we are suggesting is to rent the whole place for the weekend, from Friday to Sunday to celebrate a mega Weekend–Wedding!
GROUND FLOOR
Period entrance hall
Games room with table tennis
Multi-purpose room of 100 m² with barbecue and bathroom
FIRST FLOOR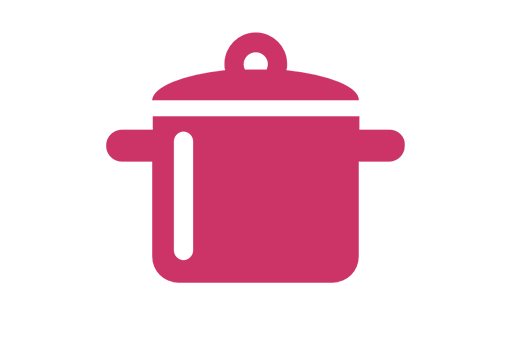 Kitchen
Dining room
Lounge with fireplace, TV
Bedroom no. 1: Double with two single beds and bathroom. 0.90×2 m. TWIN
Bedroom no. 2: Double with two single beds and bathroom. 0.90×2 m. TWIN
Bedroom no. 3: Triple with double bed (1.5×2 m) and single bed (0.90×2 m), bathroom. 1.5×2 m and 0.90×2 m. TRIPLE
SECOND FLOOR
Lounge with sofas, fireplace and TV
Bedroom no. 4. Double with two single beds and bathroom. 0.90×2 m. TWIN
Bedroom no. 5: Double with bathroom. 1.5×2 m. QUEEN
Bedroom no. 6: Double with bathroom. 1.5×2 m. QUEEN
Bedroom no. 7: Double with two single beds and bathroom. 0.90×2 m. TWIN
OUTSIDE
Multi-purpose room of 100 m2 with barbecue
Outdoor pool (5×9 m)
Garden
Covered porch with garden furniture
WCs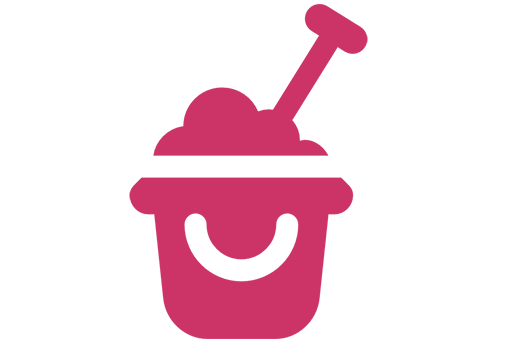 Children's playground, basketball hoop and football goalposts
Paddle tennis court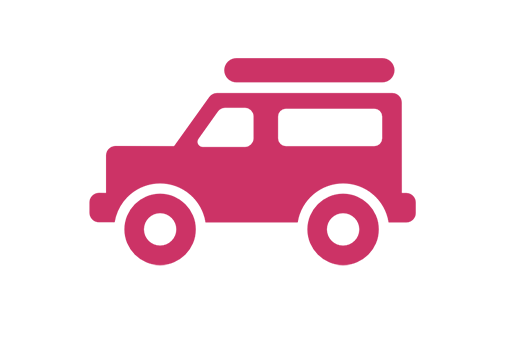 Private outside parking area
ADDITIONALLY
Bed linen
Bath towels
Bathroom per bedroom
Hair dryers
Heating
Fans
 Wi-Fi
2 TVs
Oven
Microwave oven
Dishwasher
Dishwasher tablets, scourers, washing up liquid and dish cloths
Handheld mini-blender
Toaster
Italian coffee maker
Nespresso coffee maker
American coffee maker
Tablecloths and napkins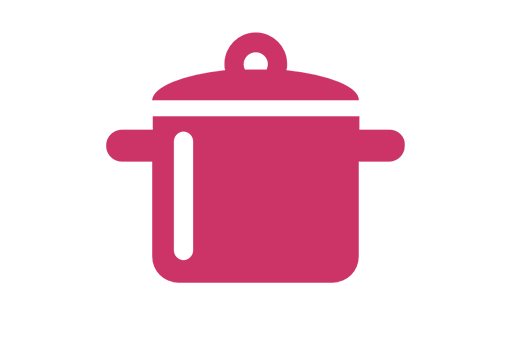 Paella gas ring, paella pan and butane gas
Washing machine
Firewood
Cot
High chair
Sun loungers
Just 5 minutes from La Cabana, we have two more rural holiday homes for the remainder of your guests.

Get first-hand knowledge from those who have experienced a marvellous day at La Cabana.
We are sure you'd love to read the opinions of some of the people who have hosted events at La Cabana, wouldn't you?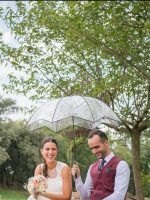 Preparar la boda con Anna de la Cabana fue estupendo. Nada más ver la casa, supimos que tenía que ser allí, y el contacto con ellos siempre fue muy sencillo. Nos ayudaron con los proveedores, y se preocuparon porque todo saliera bien en nuestra boda. Además tuvimos un poquito de lluvia en la ceremonia, y nos trajeron paraguas. Muy buena sensación nos ha quedado, y seguro que volveremos.
Setembre 2015
&nbsp
Marta & Toni (Catalunya)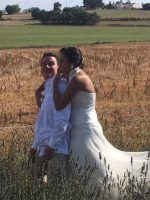 La Boda Soñada!!! No tenemos palabras para explicar la felicidad que tenemos de haber descubierto la Masia La Cabana y haber contado con el apoyo de la Sra. Ramona, El Sr. Josep, Anna y Gloria!!! Nos acompañaron en todo momento para la logística y organización de toda la celebración de nuestra boda. Siempre sonrientes, con opciones, atentos! Nuestra experiencia fue, sin duda, mágica. Superó cualquier expectativa posible! Haber logrado que toda la familia se reuniera, en este paraíso, no tiene comparación alguna! Moltes gracias!! Volveremos!!!!
Setembre 2016
&nbsp
Mayela & Tomas (Venezuela)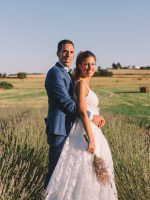 Nosotros teníamos muy claro que queríamos celebrar una boda totalmente al aire libre y en un entorno rural, donde pudiéramos hacer las cosas a nuestra manera y sin restricciones. Además, queríamos un sitio donde nuestra familia más cercana pudiera alojarse antes y después de la boda (que, por cierto, queríamos que durara un fin de semana entero). Cuando visitamos La Cabana por primera vez supimos que aquel lugar era ideal para hacer el tipo de boda que queríamos: gran jardín, vistas preciosas, casa super equipada para 15-20 personas, piscina... A pesar de que allí no se hacen muchas bodas grandes (ya que la sala interior, en caso de lluvia, es pequeña para un banquete con muchos invitados, nosotros éramos 120-130) y al principio tuvimos nuestras dudas, decidimos arriesgarnos y contratamos La Cabana. Y fue la mejor decisión que podríamos haber tomado. El día de la boda salió todo genial. Habíamos reservado carpas por si llovía, pero hizo un día increíble, así que no tuvimos que ponerlas y lo hicimos todo al aire libre: ceremonia, aperitivo, banquete y baile. Además, al día siguiente hicimos una comida informal con los invitados y disfrutamos de la piscina y la pista de pádel durante todo el día. Después, nuestra familia más cercana se quedó con nosotros en la casa durante 5 días más y lo pasamos en grande (en agosto sólo alquilan la casa por semanas completas). En definitiva, fue una experiencia increíble. Y esto fue gracias también a la familia Niubó, ya que nos ayudaron muchísimo y fueron super flexibles. Tanto Anna como Ramona se preocuparon por que todo saliera a la perfección, tanto el día de la boda como durante el resto de la semana. ¡Un 10 para ellas!
Agost 2016
&nbsp
Ana & Vicent (Catalunya i Valencia)
We at La Cabana can put at your disposal a varied and carefully selected list of very professional companies that know La Cabana.
Nevertheless, despite our recommendations, the list of companies is completely open to anybody you wish to include. The most important thing is to choose the companies you feel most confident in and which match your requirements.
JEWELLERY AND ILLUSTRATION
GRAPHIC DESIGN AND INVITATIONS
La Cabana is located on the outskirts of the village of Casserres in the Berguedà region.
It is totally surrounded by fields and, at the same time, is within walking distance of the village.

ADDRESS
Casa La Cabana, afores s/n
08693 Casserres
Country: El Berguedà
Province: Barcelona
GPS COORDINATES
42° 0'44.28″ N
1°49'58.76″ E
HOW TO GET THERE
Take exit 88 from the C-16 highway, signposted for Casserres. Follow the local road and after 4 km you will come to the village of Casserres.
At the entrance you will come to a roundabout; take the first exit heading towards L'Espunyola.
You will come to a second roundabout at which you take the second exit heading towards Casserres.
After about 500 metres, just after the sports fields of Casserres, you will find a sign for La Cabana on the right hand side.
Follow the track for 300 metres and… welcome to La Cabana!
JOSEP NIUBÒ
RAMONA CASAS
ANNA NIUBÒ
Carrer Major, 31. 08693 Casserres
+34 636 533 958
+34 938 234 082
info@calbernadas.com
TAKE FULL ADVANTAGE
Apart from the option of rural tourism, La Cabana also offers a host of possibilities for your celebrations and corporate seminars along with a range of really original package ideas to help you make the most of the house and its surroundings.