Cal Bernadàs is one big family in which each member performs a key function to ensure you feel at home.

We love meeting new people with different customs and ways of doing things, so please come and find us once you get to Cal Bernadàs and we'll be delighted to sit and chat.
RAMONA
A natural born worker, is an accountant by profession, perfectionist, meticulous and neat with a great maternal vocation, thanks to which all our houses have that certain homely touch. She is always looking out for you and making sure you want for nothing.
ANNA
Is Josep and Ramona's daughter. It is her they rely when it comes to anything to do with what this brave new world knows as the Internet, which is so important, extensive and in constant evolution. She's the one with her ear constantly glued to her mobile phone while sat in front of the computer fulfilling all your requests.
She welcomes foreign guests, organizes events and provides everything you need!
MIREIA
Is a big-hearted young lady whose love of pigs is inherited from her father, Josep. She started coming to the farm as a punishment from her father but it has ended up being a job she loves.
MERCÈ
Thanks to her, all of the houses are clean and ship-shape. Orderly, neat and well organized, Mercè has been the head cleaner in our houses right from the outset.
GLÒRIA
Glòria also works in front of a computer screen and is at the other end of the phone. She helps with managing reservations and accounting tasks.
JOSEP
Is passionate about his work and his brain never stops whirring away thinking about ways we could improve. Continuing the work of his forebears is it down to him that Cal Bernadàs has become what it is today. He made the decision to dedicate himself to livestock rearing and agriculture and, a few years later, together with Ramona, he had the initiative to convert all our farmhouses into rural holiday homes.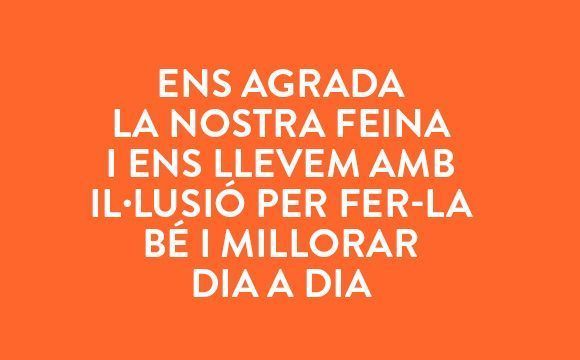 JOSEP ROBLES
Is a great professional in the world of pig-rearing. He loves his work so much that he doesn't hesitate to contact specialist forums if he feels it necessary. He is a perfectionist, very committed whose ambition is to always do his best. The sows are so well cared for that they produce more and more piglets every day, and the piglets are so happy that they become very sad when the time comes for them to leave the farm! 😉
JOSEP LLORENS
Farm worker and all-rounder. When he's not working in the fields he does everything else and more. Every day throughout the whole year his work is immensely varied. Apart from taking care of all the fields, which means ploughing, sowing, reaping, gathering etc., he also acts as a gardener, keeping the swimming pools really clean, cutting back the forest during winter – and he even assists Josep with the farm and Marc with the cattle when they need help!
MARC
Young, enthusiastic, cheerful and eager to learn. He has taken over from Lluís de Vilanova, who retired at the age of 70 after having been with us for many years. Marc takes care of all the farm's calves, the entire herd of cows and the pigs for fattening. He's the one who will be delighted to show you how the smallest of the little calves take their milk! 😉