If you are organizing a celebration and don't know where to start, or don't have time to organize it or if you just want to enjoy doing it, then we can help you right from start in everything you might need on the big day.  
We will help you to:
1
LOOK FOR AND SELECT ALL OF THE SERVICES YOU NEED

Catering
Decoration
Photography
Video
Sound
Live music
Jewellery
Graphic design
Invitations
Transport
Babysitters
Children's entertainment
…
2
THE PLANNING AND ORGANIZATION OF THE BIG DAY
With your help and, above all, listening to you, we will plan everything so that on the day you don't have to concern yourself with anything and it will all unfold in a very natural way.
We will coordinate all the timings between all of the collaborators, so that everyone knows exactly what is required of them at any given time and everything turns out just as you wanted.

3
WE WILL BE YOUR INVISIBLE SHADOW DURING YOUR BIG DAY
We will be at the celebration controlling that everything happens as it should and resolving any unforeseen circumstances that might crop up at the last minute.

At Cal Bernadàs we are a team comprising several people, but in this case it will be Anna in charge of planning your celebration from beginning to end.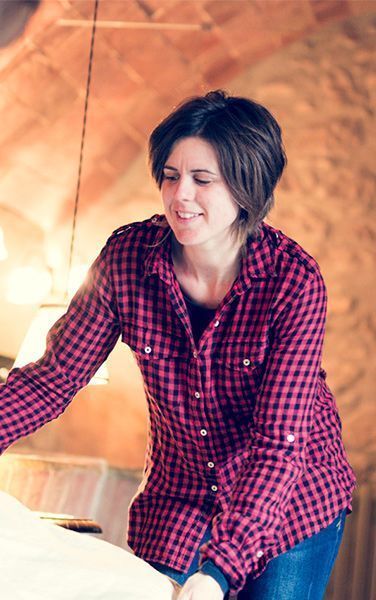 GET TO KNOW ME A LITTLE BETTER
And who is Anna? Well Anna, if I may speak in the first person, is me. A person who applies herself (or at least that's what they've always said about me), organized, quite a perfectionist and just a little stubborn.
I am also a dynamic, open, straightforward and decisive person. I like doing things in order, one after the other. To my way of thinking, it's the best way to do things well, calmly, with passion, sensitivity and from the heart.
I love plants (even more every day), craftwork (since forever), languages and travelling to learn about new ways of viewing, living in and understanding the world.
I have always loved organizing banquets, lighter meals, parties big and small and, even without meaning to, I always end up right in the thick of it when it comes to setting them up (whilst enjoying every minute, obviously!).
The most important thing is to know what our guests think!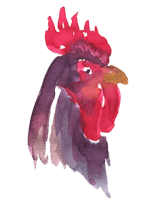 Mi ahora mujer y yo elegimos El Munt para celebrar nuestra boda y a Anna Niubò como nuestra "wedding planner" y no podemos estar más contentos con nuestra elección. La casa es una maravilla y las instalaciones una gozada. La localización es también perfecta al estar cerca del pueblo para disponer de todo lo necesario pero suficientemente lejos como para sentirte en medio de la naturaleza sin nadie alrededor. Anna fue indispensable en la organización de la boda y en el día de la celebración asegurándose que todo iba sobre ruedas. Anna y su familia, que gestionan El Munt y otras casas por la zona, fueron también muy atentos y dispuestos a ayudar en lo que fuera necesario. Sin lugar a dudas, recomendamos El Munt a cualquier pareja que quiera celebrar su boda de una manera un poco diferente a lo tradicional y que disfrute de la calma y tranquilidad de un sitio idílico en medio de la naturaleza. ¡Muchas gracias familia Niubò Casas!
Julio 2015
&nbsp
Francesca & Santiago (Escocia)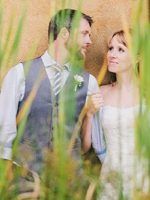 Soy americana y no podía ver El Munt hasta que llegara a Barcelona la semana antes de la boda. He planeado todo por internet y con la ayuda de Anna. ¡Todo fue perfecto! La casa, magnífica (muy moderna, limpia, grande). La tierra, increíble. Anna y sus padres, ¡geniales! No puedo recomendar más esta masía. Es un lugar perfecto para una boda o para las vacaciones. ¡Gracias por todo, Anna!
Julio 2014
Kristy & Mark (Estados Unidos)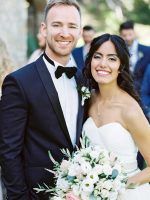 A perfect experience that exceeded expectations. El munt is amazing, pictures don't make justice of how the place actually looks in person. Me and my husband had our wedding there just a month ago and it was absolutely perfect. It was gorgeous, totally secluded and spacious. Really can't complain about anything.
Maig 2017
David & Johanna (California)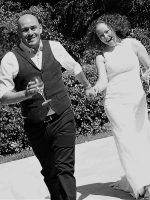 Perfect Wedding Location. We booked El Munt for our small wedding (18 guests) without ever having visited the villa or location before. When we found the villa on-line it looked beautiful and came with the added bonus of having a wedding planner available to assist. It was a risk - we didn't know what to expect! The pictures looked great, but the acid test would be what the villa was like when we got there. I am pleased to say that it exceeded expectations completely. The villa was fantastic and was only surpassed by the friendliness and professionalism of the family that own it. The main positives of the villa - the indoor and outdoor pools, the location (very secluded), the master bedroom, the poolside BBQ, the communal areas...etc. In fact, there was probably only one negative - no air conditioning (that I could find). The wedding day itself was planned by Anna (the daughter of the owner) and she did a fantastic job. We were married in a small forest within the villa grounds and had our meal (prepared by a local chef) near the pool. Every detail had been planned and was executed perfectly, giving us a day we will remember for the rest of our lives. Our friends all described it as the "best wedding ever". I think the location and planning were key to that....
Juny 2017
Gavin & Jayne (Regne Unit)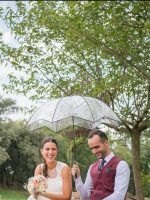 Preparar la boda con Anna de la Cabana fue estupendo. Nada más ver la casa, supimos que tenía que ser allí, y el contacto con ellos siempre fue muy sencillo. Nos ayudaron con los proveedores, y se preocuparon porque todo saliera bien en nuestra boda. Además tuvimos un poquito de lluvia en la ceremonia, y nos trajeron paraguas. Muy buena sensación nos ha quedado, y seguro que volveremos.
Setembre 2015
&nbsp
Marta & Toni (Catalunya)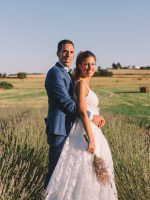 Nosotros teníamos muy claro que queríamos celebrar una boda totalmente al aire libre y en un entorno rural, donde pudiéramos hacer las cosas a nuestra manera y sin restricciones. Además, queríamos un sitio donde nuestra familia más cercana pudiera alojarse antes y después de la boda (que, por cierto, queríamos que durara un fin de semana entero). Cuando visitamos La Cabana por primera vez supimos que aquel lugar era ideal para hacer el tipo de boda que queríamos: gran jardín, vistas preciosas, casa super equipada para 15-20 personas, piscina... A pesar de que allí no se hacen muchas bodas grandes (ya que la sala interior, en caso de lluvia, es pequeña para un banquete con muchos invitados, nosotros éramos 120-130) y al principio tuvimos nuestras dudas, decidimos arriesgarnos y contratamos La Cabana. Y fue la mejor decisión que podríamos haber tomado. El día de la boda salió todo genial. Habíamos reservado carpas por si llovía, pero hizo un día increíble, así que no tuvimos que ponerlas y lo hicimos todo al aire libre: ceremonia, aperitivo, banquete y baile. Además, al día siguiente hicimos una comida informal con los invitados y disfrutamos de la piscina y la pista de pádel durante todo el día. Después, nuestra familia más cercana se quedó con nosotros en la casa durante 5 días más y lo pasamos en grande (en agosto sólo alquilan la casa por semanas completas). En definitiva, fue una experiencia increíble. Y esto fue gracias también a la familia Niubó, ya que nos ayudaron muchísimo y fueron super flexibles. Tanto Anna como Ramona se preocuparon por que todo saliera a la perfección, tanto el día de la boda como durante el resto de la semana. ¡Un 10 para ellas!
Agost 2016
&nbsp
Ana & Vicent (Catalunya i Valencia)
JOSEP NIUBÒ
RAMONA CASAS
ANNA NIUBÒ
Carrer Major, 31. 08693 Casserres
+34 608 737 714
+34 938 234 082
info@calbernadas.com